Central Carolina Scale Service, Repair and Calibration Information
SCALE CALIBRATION SERVICES
Calibration of a scale is a procedure in which a licensed scale technician uses a known cal test weight certified by the State of North Carolina Bureau of Weights and Measures, to test and adjust the response of a mechanical or electronic weighing system to the following tests; The display indicator must show zero when there is no weight on scale. When a known weight is applied the indicator must display the exact amount of applied weight within a specific tolerance. When weight is applied or removed incrementally the scale must display the weight equal to that on the scale within the specified tolerance mentioned above.
SCALE CALIBRATION COMPANIES
Not all companies are created equal. We have been selling, repairing, and renting scales since 1980. We are sometimes asked do you need a calibration weight to put on a scale and sometimes you might be able to get away without a weight but generally it is highly recommended that you use weights for scale calibration. Not just any weights, they ideally need to be certified weights or weight kits. The calibration procedure is roughly the same for most average size scales. First, make sure the scale is empty and the display shows zero. Then add a known weight and notice what the display shows. If it is within tolerance, no adjustment should be necessary. If it is out of tolerance, adjustments will need to be made to bring it within tolerance. Our factory trained tech's also pay attention to the weight as it is placed on the scale to see if it is consistent as each one is added and we also like to place the weight on different corners of the weighing platform. This is generally true no matter what brand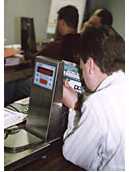 you're talking about from Avery Weigh Tronix to Rice Lake. Sometimes when you are calibrating a truck scale it can involve a few more steps such as adjusting sections but the basic principle is the same.
For the most part you should call in the professionals when it comes time to cal a scale. The pro's have the experience and the right equipment. From time to time we get asked for operator manuals or user guides for scales. Most of the time the cal instructions are listed in those manuals, however sometimes they are not. Many times if we get a request from someone looking for calibration instructions we will refer them to the manufacturer website since a number of the manufacturers have started placing the manuals online. It really depends on the type of scale and the location the customer is calling from.
It is really rewarding every time a new customer calls or emails us looking to have their scales and balances checked and calibrated. That is ideal because we provide that service every day in the triangle area of North Carolina. We obviously provide industrial scale calibration and scale repairs but one example you might not think about is medical scales. We do have quite a few local customers in the healthcare industry who call us looking to ensure their physician scales are weighing accurately. This is something that we can certainly do since we have factory trained technicians and certified test weights.

We are sometimes asked how often to do scale calibration and the answers can vary depending on your situation. For most scales it is a good idea to have them checked at least a couple times a year. Depending on how important scales are in your business, you might want to have our factory trained technicians check them every month or every quarter. To check the scale you simply put an item on the scale and see what it weighs. Ideally this would be a certified test weight or it can be some other "known" weight. Then check to see if the scale is displaying the right weight. Another example might be if you own a portable truck scale, you should probably calibrate that scale every time you move it from one location to another location. Or at least check it with a known weight to make sure the accuracy is still acceptable.

SCALE CALIBRATION PROCEDURE
One of the tremendous advantages that our scale repair and service provides you is factory training and certified scale calibration weights and weight kits. When we check your equipment it is checked with accurate weights and the accuracy is written down on our scale calibration report and we place labels on your devices which shows the date they were checked and the due date for the next service.

One question we are asked is how do I calibrate my scale without weights? There are two examples we can look at. First, if you are lucky enough to have a laboratory balance that includes internal calibration, technically you don't have to posess any weights because the weights are already in the balance. Another example would be using a known weight. Say you are out in a warehouse that has two or three floor scales. If one of the scales needs to be checked, just place an item on one of the other floor scales and get a weight. Place that item on the scale you need to calibrate. This is not a perfect solution but it should work until you can get a scale calibration company in with real test weights.

Hopefully some of the highlights above have assisted you with calibrating digital scales. We have been servicing and repairing scales everywhere from Burlington, NC to Clinton, NC for over thirty years. We encourage you to browse our website and contact us for your weighing needs.